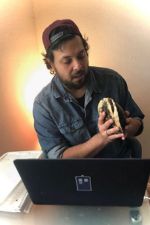 Obed "OHG" Hernández-Gómez
Appointment: Assistant Professor of Wildlife Disease Ecology
Email: ohg@nmsu.edu
Expertise: Disease Ecology, Herpetology, Conservation Genetics
Obed Hernández-Gómez is an assistant professor of wildlife disease ecology in the Department of Fish, Wildlife and Conservation Ecology at NMSU. Dr. OHG is a native of the El Paso – Las Cruces Area where he graduated from Bel Air High School, then El Paso Community College (licensed vocational nursing certificate) in 2007. He attended Texas Tech University from 2007 to 2010 with plans to apply to medical school, but wildlife research, nursing employment, and outdoor experiences meandered his career trajectory towards conservation biology. Dr. OHG obtained his PhD in conservation genetics from Purdue University in 2017. His dissertation work focused on describing the skin microbiomes of hellbender salamanders in the wild and captivity. In 2017 and 2019, Dr. OHG received two prestigious postdoctoral fellowships to study Californian amphibian disease and microbial ecology at the University of California – Berkeley. Dr. OHG served as an assistant professor at Dominican University of California from 2020-2023, where he taught biology courses and published research with several undergraduate researchers. Dr. OHG's research focus in California was on assessing the distribution of emerging fungal diseases in western pond turtles and evaluating the effect of wildfires on terrestrial salamander microbiomes. Dr. OHG will be joining the FWCE department in January 2024.

The OHG Lab @ NMSU studies wildlife disease ecology in New Mexico and western United States. The lab specializes in producing molecular and experimental tools to assess the effect of environmental change on pathogen prevalence in wildlife populations. The lab is currently developing environmental DNA (eDNA) assays to detect the presence of wildlife (turtles) and pathogen DNA in aquatic habitats using water. Members of the OHG Lab will apply these new molecular technologies to assess how stressors such as environmental change (e.g., wildfires) and the presence of invasive species influence disease outbreaks and severity in wildlife. The lab is also using captive populations at zoos (San Francisco Zoo) and on campus to investigate the effects of captivity, host immunogenetics, pollution exposure, and microbiome disturbance on disease progression in wildlife. Previous, OHG Lab collaborators include the Washington Department of Fish and Wildlife, East Bay Regional Parks, San Francisco Zoo, USGS, and the St. Louis Zoo. OHG Lab alumni have advanced to veterinary school, graduate school, and the biotechnology industry.