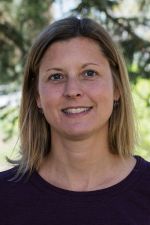 Kelly Jones
Appointment: Professor
Email: kwjones@nmsu.edu
Expertise: Human dimensions of conservation; Environmental economics; Evidence-based conservation; Social-ecological systems research
Jones Publications
Kelly Jones is a Professor in the Department of Fish, Wildlife, and Conservation Ecology. Kelly is trained as an interdisciplinary social scientist and is originally from North Carolina. She completed her undergraduate degree in Biology at Meredith College, where she spent a semester studying wildlife management in Kenya through the School for Field Studies. After this experience she spent two years in the Peace Corps in Togo as a natural resource management specialist, while simultaneously earning her M.S. in Natural Resources Management from North Carolina State University. Kelly worked for two years at Conservation International before completing her Ph.D. in Forest and Wildlife Ecology at the University of Wisconsin-Madison in 2011. Prior to joining New Mexico State University, Kelly was a faculty member at Colorado State University and the University of Idaho.

Dr. Jones' research applies social science theories and methods to address applied conservation issues within a social-ecological system. Some of the key research questions that motivate her research include: (1) What are the impact pathways from conservation interventions and what external factors influence desired results?; (2) What are the appropriate indicators and methods to evaluate success or failure of conservation interventions over time?; and (3) How do we adequately measure and incorporate diverse perspectives and values into conservation decision making? Kelly's recent research focuses on forest management and human-wildlife interactions, including projects that explore collaborative approaches to address wildfire and watershed protection in the western United States, measure the impacts of payments for watershed services programs in Mexico, and seek to understand attitudes and behaviors toward cheetah in Eastern Africa. Students interested in working with Kelly as a graduate student should have a strong interest in specializing in the human dimensions of natural resources management or conservation social sciences to inform conservation approaches within a specific social-ecological system.