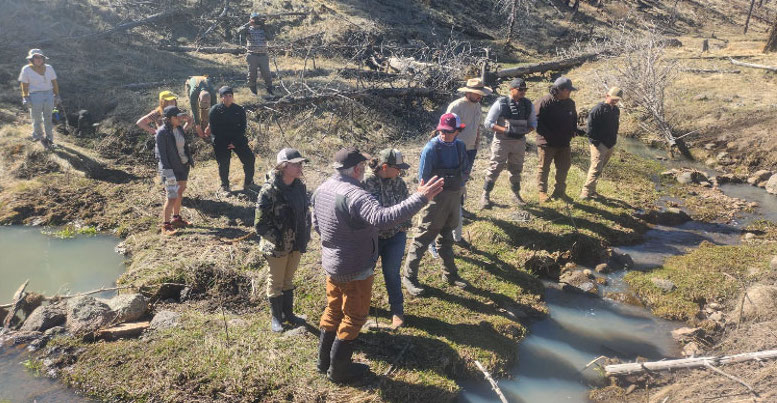 Stream restoration on Turkey Creek, NM
Objectives
The New Mexico Student Subunit of the American Fisheries Society is an organization of undergraduate and graduate students interested in aquatic sciences such as fisheries management, aquatic ecology, and conservation. The NMSU Subunit is affiliated with the Arizona-New Mexico Chapter of the American Fisheries Society.
The American Fisheries Society…
Includes more than 8,000 members from around the world, including fisheries managers, biologists, professors, ecologists, aquaculturists, economists, engineers, geneticists, and social scientists
Promotes scientific research and sustainable management of fisheries resources
Publishes five of the world's leading fish journals, and many renowned books
Organizes scientific meetings where new results are reported and discussed
Encourages comprehensive education and professional development for fisheries professionals
2023-2024 Officers
President – Will Bass; wbass@nmsu.edu
Vice President – Terra Martinez; terralm@nmsu.edu
Treasurer – Maret Smith-Miller; maretsm@nmsu.edu
Secretary – Anna White; anna35@nmsu.edu
News and Links
Professional Certification
The American Fisheries Society has approved certification requirements that can be met for the Associate Fisheries Professional in the Department of Fish, Wildlife, and Conservation Ecology!
For more information, contact Dr. Zach Klein.