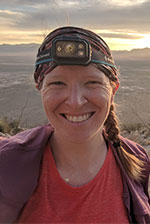 Theresa M. Laverty
Appointment: Assistant Professor
Email: tlaverty@nmsu.edu
Office: Knox 127
Expertise: Community Ecology; Mammalogy; Population Ecology; Social-Ecological Systems Research
Laverty Publications
Laverty Lab Website
Theresa Laverty is an Assistant Professor in the Department of Fish, Wildlife, and Conservation Ecology. Theresa is originally from Ocean City, NJ and completed her undergraduate degree in Ecology and Evolutionary Biology at Princeton University in 2010. After working in the field for a few years, she then went on to Colorado State University where she received her Ph.D. in Fish, Wildlife, and Conservation Biology in 2019. Theresa was a postdoctoral scholar at Colorado State University (2019 – 2021) and the University of Chicago (2021 – 2022) prior to arriving at New Mexico State University.

Dr. Laverty's research answers questions rooted in applied population and community ecology and often takes place outside of protected areas where humans, livestock, and wildlife interact. She combines ecological research with social science methods to understand the basic ecology of a system, including the roles people play in the environment, in hopes of providing information that can assist managers and conservation scientists to make informed decisions. She largely studies mammals these days, but has formerly worked with birds and reptiles. Theresa's most recent research has focused on bats in North American and African deserts as well as those in Madagascar's forests.