The Wildlife Society Student Chapter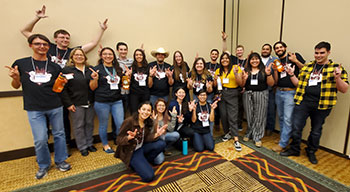 2019-2020 TWS officers - tws@nmsu.edu will reach all the officers).
President - Thomas Serrano
Vice President - Hailey Peck
Secretary - Jadzia Rodriguez
Treasurer - Dorion Pitts
ACES Representatives- Marizabella Aceves and Danica Cooke
Advisor- Dr. Jennifer Frey 
The New Mexico State University Student Chapter of The Wildlife Society is a Student Chapter of The Wildlife Society, the professional society of wildlife biologists.
Our goal is to augment the educational opportunities for students in natural resources at New Mexico State University, to prepare members for careers in wildlife biology, conservation, and management, and to foster campus and community awareness of wildlife issues.
We achieve these goals through holding chapter meetings and conducting activities that expand members' knowledge of wildlife science and natural resources management, participating in activities and conferences such as the annual Joint Annual Meeting of the Arizona and New Mexico Chapters of The Wildlife Society and American Fisheries Society, and providing opportunities for Student Chapter members to gain field experiences and conduct educational programs on wildlife issues for the campus and surrounding community.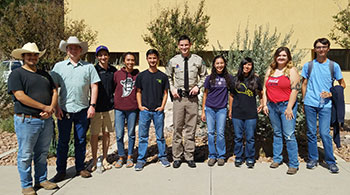 The NMSU Chapter of The Wildlife Society
Email: tws@nmsu.edu