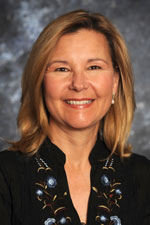 Appointment: Affiliate Professor and Unit Leader, New Mexico Cooperative Fish and Wildlife Research Unit
Email: ccaldwel@nmsu.edu
Office: Knox Hall 125
Office Phone: 575-646-8126
Expertise: Fisheries Management & Conservation Ecology; Physiology, Aquatic Contaminants and Toxicology
Co-op Unit
Colleen Caldwell is an Affiliate Professor in FWCE and Unit Leader of the New Mexico Cooperative Fish and Wildlife Research Unit. She did her undergraduate work at Texas A&M University in Fisheries Sciences, M.S. at Southwest Texas State in Aquatic Ecology, her PhD at the University of Tennessee-Knoxville in Ecology, and her postdoctoral work at North Carolina State University. Prior to arriving to New Mexico State University in 1994, she worked for the National Fisheries Contaminant and Research Center in La Crosse, Wisconsin where she conducted aquatic contaminant research and served as adjunct faculty for the University of Wisconsin in Madison. She does not miss the cold winters.
Dr. Caldwell's research focuses on fisheries ecology, management and conservation of native southwestern fishes. She works at multiple levels of organization (from cellular to the community level) to study the effects of environmental stressors on aquatic ecosystems. She enjoys the energy and fresh perspective that students bring to her lab and works hard to keep up with them in the field.